Our service area
Do you live in the service area of the Regional Public Water Authority Amstel, Gooi and Vecht? Then it is very likely that you live under the sea level. We are responsible for protecting you against flooding by maintaining a system of dykes, sluices and pumping stations. This system allows you to live, work and relax in safety.
Our service area covers parts of 3 provinces. The landscape is very diverse and has beautiful polders, lakes as well as cities. The area has various functions:
nature
recreation
city life
agriculture
So many people, so many wishes
Approximately 1.3 million people live, work and enjoy leisure time in our service area. They often have conflicting interests. We try to find the best possible solutions to meet everyone's needs. And to manage the water in the best possible way.
Are you at risk if the dykes break?
A large part of our service area lies below AOD, more commonly known in The Netherlands as NAP (Normaal Amsterdams Peil). On this scale, 0 refers to the average sea level of the North Sea. The lowest point of our service area is located in Polder Groot Mijdrecht, which lies 6 metres below NAP. It is one of the lowest areas in The Netherlands.
Are you curious if your home is at risk of flooding if the dykes break? And would you like to know what you should do in the event of a flood? The Overstroomik.nl website (in Dutch) will help you to answer these questions.
How do we protect you?
We protect you against waters in various ways. And we ensure that you have access to sufficient, clean and safe water. Our service area has:
1000 kilometres of dykes, of which 570 km are secondary dykes along the rivers. These ensures that the polders remain dry.
59 sluices.
Mills and pumping stations. Water is pumped out of the polders by 231 pumping stations.
12 treatment facilities, where waste water is cleaned. Then the clean water can flow back to the surface water.
Map of our service area
Our service area includes a large part of the provinces of Utrecht and Noord-Holland, and a small part of Zuid-Holland.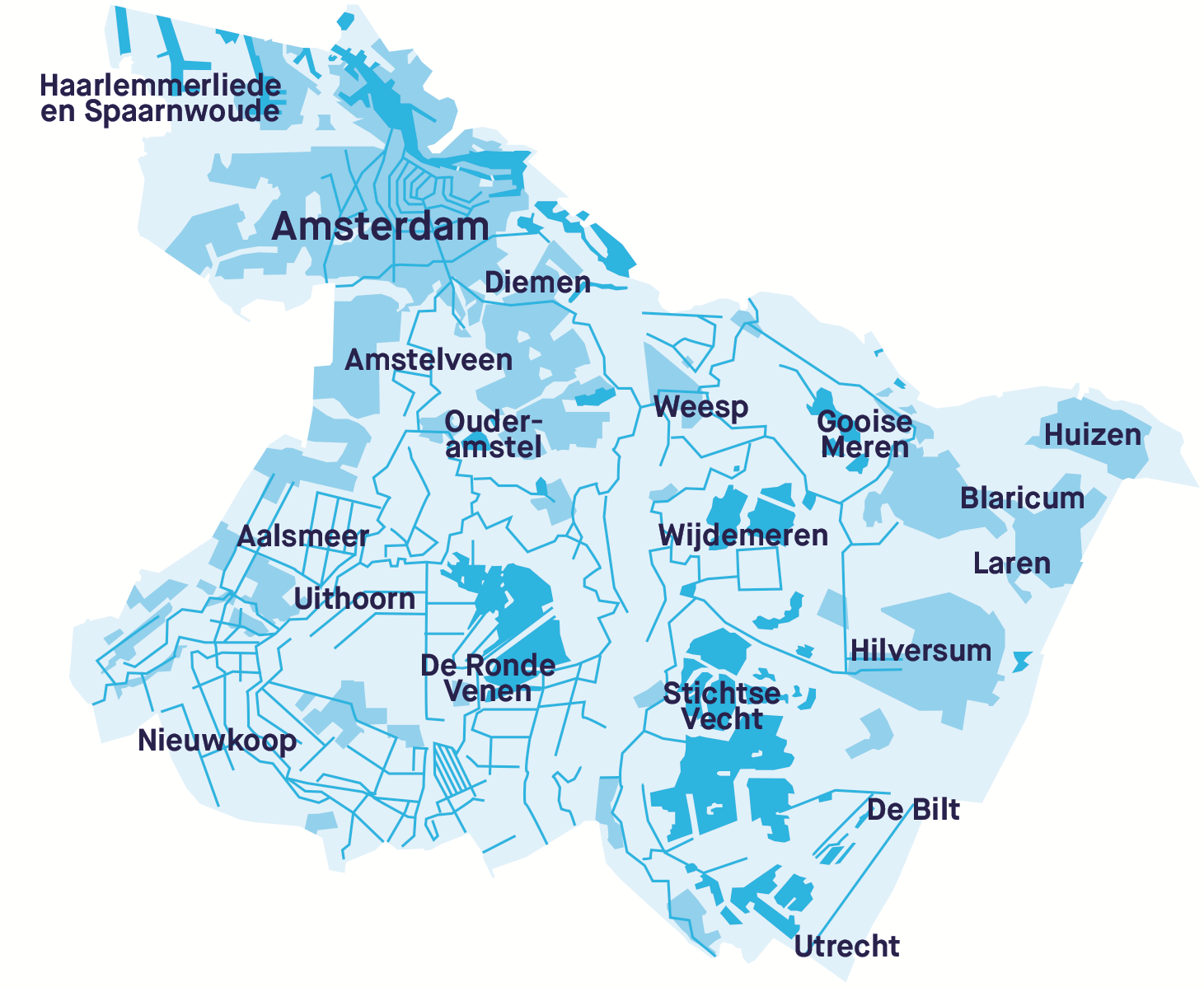 Municipalities
De Bilt*
Utrecht*
Aalsmeer*
Amstelveen*
Amsterdam*
Blaricum
Diemen
Haarlemmerliede en Spaarnwoude
Hilversum
Huizen
Laren
Ouder-Amstel
Uithoorn
Nieuwkoop*
Ronde Venen (Abcoude, Mijdrecht, Vinkeveen and Wilnis)
Wijdemeren (Loosdrecht, 's-Graveland and Nederhorst den Berg)
Stichtse Vecht (Breukelen, Loenen and Maarssen)
Gooise Meren (Bussum, Naarden and Muiden)
The municipalities with an asterisk are partially located in our service area and partially in the area of a different water authority.